Workshops for Children & Young Adults
The White Bear Foundation is dedicated to Peter James Bach and was created to honour Peter's extraordinary nature. He was a generous listener, an active humanitarian, and a loyal team player. From a young age, Peter did everything he could to help and support others, and to dedicate his life to making the world a better place.
All profits from the sale of Peter's science fiction novel The Strange Adventures of Charles P Dalwell will be donated to the White Bear Foundation in order to further the Foundation's important work.
The White Bear Foundation focuses on working with children and young adults to build up their self-esteem, self-confidence and resilience in the years leading to secondary school.
The foundation's programs provide leadership weekend workshops and presentations tailored to suit children, families, parents and schools. The leadership workshops are held in a fun and safe environment which provides young people with the self-management tools to deal with the ups and downs of the high school years and beyond.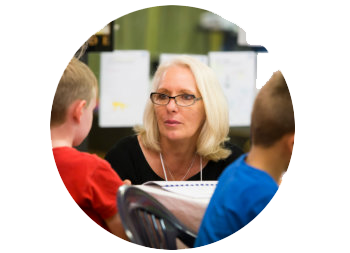 With over thirty-five years experience working closely with young people and adults in a teaching, personal development and leadership role, whether coaching individuals or groups of varying size, Maria gets results. She continues to have an impressive, diverse and deep-rooted career in personal development, leadership and coaching. As a parent and professional development coach, Maria believes it is vital for effective communication and support to begin at home.
After the tragic loss of Maria's second child, Peter, in July 2012, she vowed to utilise her skills and experience to help other young people and their families — and to do this in Peter's honour. "If I can save one other family the pain of losing a child I will have achieved my outcome," says Maria.
As the founder of the White Bear Foundation, Maria aims to educate communities by providing workshops and presentations for young people, parents and schools. Participants will learn effective communication, leadership and lessons in life skills with an emphasis in building self-esteem and confidence.
The white bear adopted by the Foundation symbolises Peter's gentle, intelligent and courageous nature; as well as his great sense of humour, strength and leadership qualities.
I have known Maria Bach for over 10 years. We met during our work in the personal development industry and the various community based charities we have supported over the years. Maria is a highly successful businesswoman and professional speaker with a keen acumen and abundant charisma. I see Maria as highly trustworthy and someone I can always count on no matter what the challenge. As a personal mentor of mine, I greatly admire her determination, creativity, and willingness to do whatever it takes to break down barriers and connect with the plight of those in need. In fact I would consider Maria as having one of the most caring souls of my entire peer group, and this shows up through an unstinting passion for contribution and adding value wherever she goes. Beautiful on the inside as well as the outside, Maria is one of those rare individuals whose personal integrity is matched only by her enormous heart. I count it a privilege to call Maria a dear friend.
I have known Maria Bach for over 10 years and in that time I have found Maria to be a woman of integrity and passion, with a commitment to helping others. Maria is a not only a successful business owner but also an empowering Leader in personal development strategies. Since 2009 Maria has worked closely with me in various leadership roles coaching and mentoring teenagers at our National Youth Leadership and Business Summits. She is an inspiring example of how a commitment to love can turn (heart breaking) adversity into a foundation of hope for future generations.
Join Our Next Weekend Workshop